Line Induction (Low frequency)
La GTM France has low frequency induction lines allowing the heat treatment (quenching, tempering, annealing, normalization, stabilization …) of steel, stainless steel bars or tubes in great lengths (up to 15 meters or more according to grade and diameter).
La GTM France is unique in offering on one site such an extensive heat treatment capacity by induction (from diameter 10 to diameter 350 mm).
Our experience and know-how in induction heat treatment allow us to adapt to the most restrictive and highest customer specifications.
Our induction line treatments have many advantages including:
the speed of treatment (almost instantaneous heating at heart)
homogeneity of structure (great mastery and reactivity of the parameters)
low decarburization
obtaining extraordinary mechanical characteristics
a high ratio between tensile strength and stretch limit (high Rm / Re ratio)
the absence of deformation of the products during the treatment
The quality of our induction heat treatment services combined with increased flexibility allows us to be an indispensable partner in many fields of activity such as:
energy (Oil & Gas, nuclear, wind)
transport industry (automobile, rail, maritime)
mechanics
civil engineering
Our customers have trusted us for more than 25 years in heat treatment or the supply of:
structural steels (S235, S355N, S355NL, S460, S460N, S460NL..)
unalloyed steels (C35, C40, C45, C55, C60, C35E, C35R, C40E, C40R…)
alloy steel (37Cr4, 41CrS4, 25CrMoS4, 34CrMoS4, 42CrMoS4, 50CrMo4, 34CrNiMo6, 36NiCrMo16, 33MnCrB5-2…)
stainless steels (X20Cr13, X30Cr13, X2CrNiMo17-12-2, X1CrNiMoCuN-20-18-7…)
steels for equipment under pressure (P195GH, P235GH, P265GH, 11CrMo9-10 …)
duplexes
zirconium
Whether in complete own production (we supply you the complete product) or subcontracted work, our induction heat treatment facilities are the essential operations for the success of your projects. Do not hesitate to consult us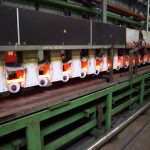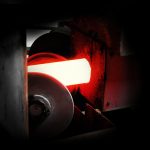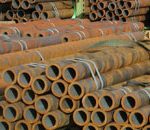 Gas furnances
La GTM France is equipped with gas furnaces which allow us to thermally treat steel or stainless steel products such as bars, tubes, squares, mechanically welded assemblies or forging pieces up to 12 meters long.
The possible heat treatments in our tunnel furnance are:
Quenching (water or polymer)
Tempering (with tempered stop if needed)
The possible heat treatments in our bell furnances are:
Tempering after quenching
Stabilization annealing
Softening annealing
Globulization annealing
Perlite / lamellar ferrite annealing
Normalization annealing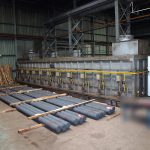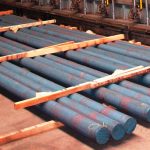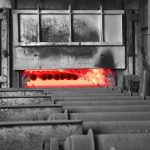 Advantages of our heat treatment method Q&T by single bar induction
Tensile strength and yield stress are higher and more constant in Q&T by induction than in Q&T by gas heat treatment thanks to:
Homogeneity and fineness of the structure
Adjustment of treatment parameters in real time

Low decarburation

Processing speed